Guaranteed professionalism
Technical support and servicing
The essential element of each business operation is a high-quality communication with clients and business partners, as well as the building of trust and confidence in the manufacturer. Technical support and servicing within the EUX Company have reached a high level owing to their vast experience and many years of operation.
Easily accessible
Always available
We offer our know-how, experience and competence in the area of aluminium joinery, including the production of shutters, fittings and shutter systems to our customers and business partners. Thus, we guarantee an exceptional technical support any time and for any project.
We invite our customers and business partners to contact us through the available methods and channels with the aim of creating a unique solution.
The EUX Company is developing its high-quality shutter and fittings production through a continuous implementation of new solutions and organisational operation methodology. Such implementation is closely associated with a continuous development within the area of technical support and servicing.
In a relaxed atmosphere
Simple technical support
A well-organised and professional operation methodology applied within the Company provides a carefree business approach towards our business partners and end customers, creating mutual pleasure and trust during the implementation of each project and the processing of each order.
The EUX Company meets its customers' needs, with its technical support and servicing based on a high degree of understanding for all the issues and requests.
Vast experience
Support on your side
The EUX Company is the aluminium shutter and shutter systems manufacturer you can fully rely on. We provide support to our customers and business partners even upon the completion of the project and are always available for replying to inquiries, information sharing, as well as performing modifications and upgrades.
Our technical support and servicing are just one of the elements making the EUX Company the authority within the world and industry of aluminium shutters.
EUX predstavlja proizvođača aluminijskih grilja i sistema za grilje u kojeg se možete u potpunosti pouzdati. Stojimo uz naše partnere i klijente i nakon gotovog projekta, te smo uvijek dostupni za upite, dijeljenje informacija i implementaciju modifikacija i nadogradnji. Naša podrška i servis stolarije su samo još jedan od faktora koji čine EUX autoritetom unutar svijeta i industrije aluminijskih grilja.
Explore the products and the Company
EUX ALUMINIUM joinery
Top-quality aluminium shutters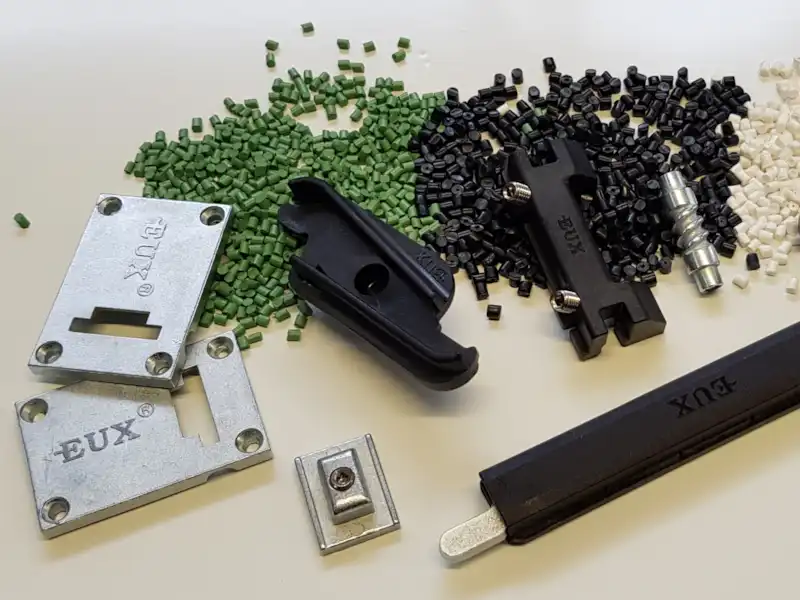 Wide selection of mechanisms and fittings
EUX is the authority in its industry
CA certified, safe and well-organised business operation
FAQ
Frequent questions on support and servicing of shutters:
What do technical support and servicing imply?
Joinery is an industry in which accidental failures may occur. Sometimes the failure occurs due to a bad installation, while on other occasions an accident may occur during transport. The technical support and servicing are intended to ensure a properly functioning and finished end product is delivered to the joinery manufacturer's customers and business partners.
What is considered a good joinery support?
A good support should be able to meet the specific and technically demanding requirements of customers and business partners and to provide information and integral solutions to their requests and demands. The support must always be easily accessible and ready to respond to the requests within a reasonable time period.
What kind of joinery support does a partner expect?
Business partners usually look for a comprehensive contractor and manufacturer with a high-quality technical support and servicing included. A well-organised, efficient and helpful support is the basis of the joinery industry technical support and servicing the business partner expects to obtain.
What are the characteristics of a good joinery servicing?
A quality joinery servicing provides the possibility of replacing, repairing, installation and finishing of the aluminium joinery. However, owing to an exceptional aluminium joinery of the EUX Company, as well as a proper and precise operation and production processes, servicing is reduced to a minimum and a regular maintenance of the finished product is the maximum to be done once the product is purchased.
Should support and servicing develop over time?
The technical support and servicing must keep up with the trends, as well as new technological possibilities of design and production of the very aluminium joinery. It is impossible to make progress in any field without implementing the technical support and servicing system able to meet new challenges, requirements and demands of the technology which is implemented.
Do technical support and servicing provide security?
High-quality technical support and servicing provide a guaranteed security when purchasing, distributing and applying end products in all the areas of business process and operation, including the ordering and installation of joinery onto the building. Technical support and servicing grow and develop together with the EUX joinery's authority and experience, so the many years of operation form a god basis for an adequate support and servicing, as well.
Have you got a project in mind?
You have found the right business partner! – EUX shutter systems provide you with a top quality and affordable service, as well as a long experience and authority within the industry.
Feel free to present us your business plan or the building on which you wish to install EUX shutters. Our technical support and advisory departments remain at your disposal. Just choose a shutter model, and we will define the remaining details during the project implementation.