Elegance and quality
Why choose EUX aluminium shutters?
We have developed EUX shutters in order to meet various aesthetics and functionality requirements in accordance with traditional and modern structures applied in the specific areas. The EUX Company has decided to offer its business partners and customers a complete cooperation and production security, product durability and technical advantage in the market.
Applicability
Compatibility of installation
EUX models of aluminium shutters provide multiple installation options. They can be installed onto the edge of the facade with their jamb if there is an appropriate surface available. The solution for deep recesses with styrofoam insulation are the EUX shutters with a frame which can be installed all the way to the window, not leaving an empty space between the window and the shutters.
The EUX frameless shutters can be installed directly onto the window jamb whether the window is made of PVC, aluminium or wood.
The most popular choice of joinery used in modern architecture is the one of sliding and folding shutters, as well as the models of EUX shutters intended for installation onto the styrofoam facade. In addition to them, frameless shutters which are installed directly onto the window frame make a frequent choice in modern architecture.
Security and protection
Forget about the insects
A vertical or horizontal mosquito net can be installed into several models of the EUX shutters with a frame. In this case, the mosquito net is fixed onto the window frame. This provides a significant time saving on the installation of the net on the building because the preliminary work provided by EUX shutters was performed.
EUX aluminium shutters provide an improved sun protection, increase insulation, as well as the aesthetic appeal of your building.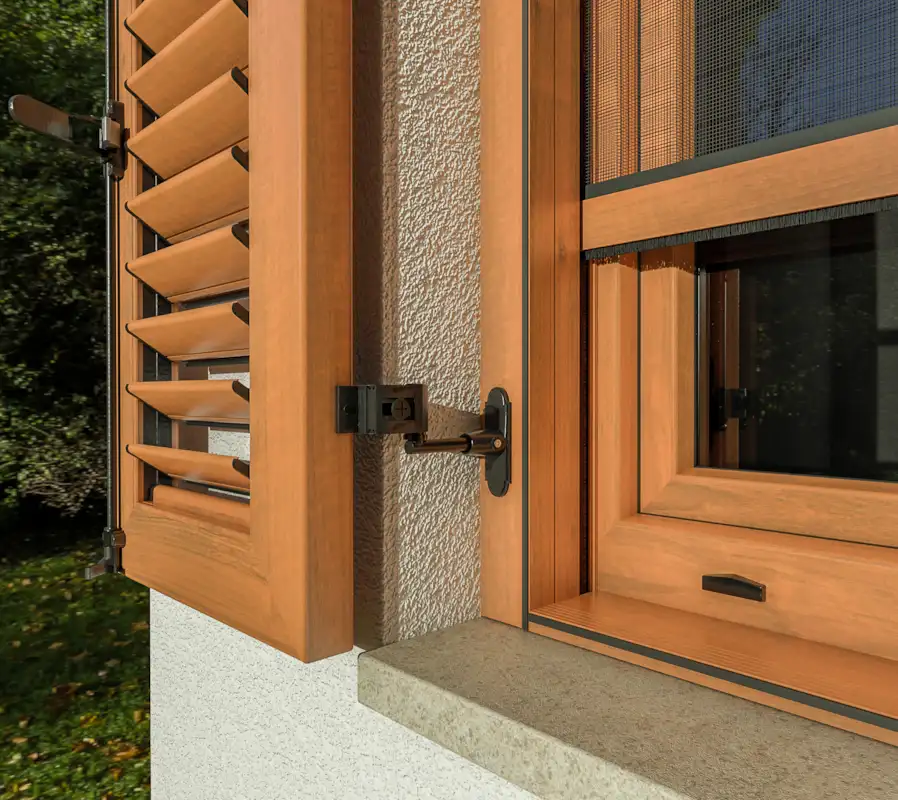 Multifunctionality
EUX aluminium shutters provide a number of technical solutions
The various models of EUX aluminium shutters can meet the most stringent architecture requirements, and the professional EUX personnel will find unique solutions for your specific project needs and demands.
In this way, the EUX aluminium shutters can be implemented in modern and traditional architecture. A wide product range of aluminium shutters and fittings guarantees a multifunctional application.
Razni modeli EUX aluminijskih grilja mogu odgovoriti i na najstrože arhitektonske zahtjeve, a stručno EUX osoblje pronaći će unikatna rješenja i za Vaše specifične projektne potrebe i zahtjeve. Time je moguće EUX aluminijske grilje primijenjivati u modernoj i tradicionalnoj arhitekturi. Raznolik astortiman modela grilja i dodataka za njih garantira multifunkcionalnu primjenu.
Explore the products and the Company
EUX ALUMINIUM joinery
Top-quality aluminium shutters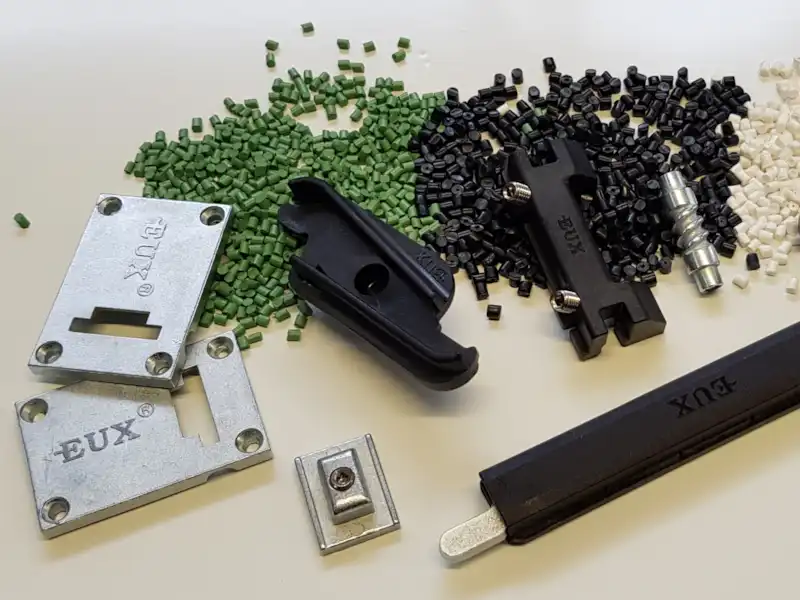 Wide selection of mechanisms and fittings
EUX is the authority in its industry
Certified and safe, well-organised business operation
FAQ
Frequent questions on EUX aluminium shutters:
What is important in producing aluminium shutters?
A complete dedication to high-quality production represents one of the crucial factors when producing aluminium shutters. High quality can be achieved using exclusively top-quality materials, cutting-edge production plants and mechanisms, as well as owing to trained and professional employees.
What makes high-quality aluminium shutters?
High-quality aluminium shutters are characterised by their durability, mechanical and aesthetic properties, as well as their proper operation, functionality and weather resistance. Such shutters represent a consistent product, made with precision and designed in cutting-edge production plants which reduce the impact of human error and increase safety and the quality of the shutters.
What is the role of fittings for aluminium shutters?
Fittings are an essential element in aluminium shutters utilisation and implementation. The expression includes all the types of handles, levers, mechanisms and other related accessories for shutters. High-quality fittings affect the shutter quality, as well as many other functions and properties of aluminium shutters, such as their multifunctionality and weather resistance.
Why choose aluminium shutters?
Aluminium shutters represent a better and smarter long-term choice without being an expensive luxury, owing to technology and marketing development. When choosing the shutters, many different factors must be taken into consideration. However, if durability and quality are among the most important factors, then aluminium shutters are the best choice.
Aluminium shutters will secure your investment and increase the aesthetic appeal and the value of your building, as well as achieve an efficient return on investment and cost reduction in the coming years.
What are the advantages of aluminium shutters?
Aluminium shutters maintain their advantage owing to the basic material they are made of, which is aluminium. The aluminium increases the energy efficiency level and value of the building and provides a long-term return on investment, owing to its resistance, durability, strength and longevity properties.
Due to the lightness of such material, it can be produced in large dimensions, thus ensuring its application and the meeting of various aesthetics and architecture requirements. Aluminium shutters are weather resistant and serve as a good thermal and acoustic insulation.
Are the aluminium shutters a good investment?
Investing in aluminium shutters reduces the cost of repair and removing damage, which often occurs with the models of shutters made of other materials. Durability of aluminium shutters together with low maintenance will facilitate all your other investments, making it a good investment itself.
Shutters, as well as other similar joinery elements present a long-term investment. Therefore, choose the material durable enough to be worth the investment.
Have you got a project in mind?
You have found the right business partner! – EUX shutter systems provide you with a top quality and affordable service, as well as a long experience and authority within the industry.
Feel free to present us your business plan or the building on which you wish to install EUX shutters. Our technical support and advisory departments remain at your disposal. Just choose a shutter model, and we will define the remaining details during the project implementation.