Shutter mechanisms represent one of the essential elements of the systematic production and the EUX Company development. A long-term dedication to the production of high-quality fittings, as well as to meeting the needs and demands of the customers have secured the Company's authoritative position in the region, with shutter mechanisms playing a key role.
Choose one of the 7 EUX mechanism models
EUX shutter mechanisms provide a wide and versatile shutter mechanism model range and are distinguished by their excellent quality, resistance and material durability, as well as the meeting f standardised production and implementation requirements.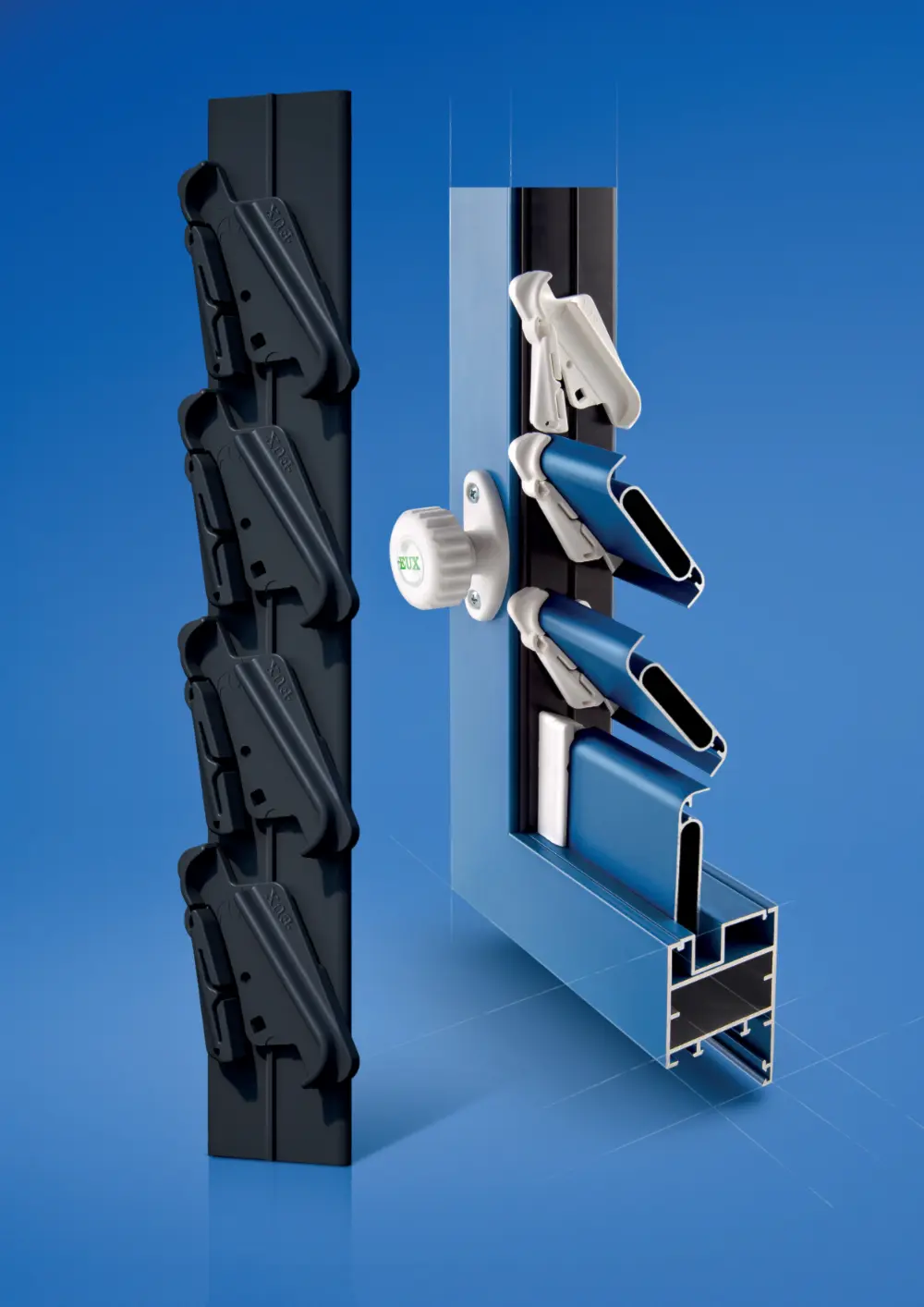 EUX 1
Aluminium shutters mechanism for naco slats
EUX 2
Aluminium shutters mechanism for teardrop-shaped slats
EUX 3
Aluminium shutters mechanism for large teardrop-shaped slats
EUX 2 with a lever
Aluminium shutters mechanism with a lever on the slats
EUX 1 Wood
Wooden shutters mechanism
EUX 2 Alumil
Aluminium shutters mechanism for teardrop-shaped slats
EUX Fix_ov
Fixed slat bracket adapted to the oblong slat of 10×50
High-quality joinery
The EUX Company focuses its production and innovation on the operation according to the most stringent standards and requirements for the purpose of achieving a perfect quality and the building of mutual trust and confidence towards our customers and business partners.
Share with us our business success!
EUX shutters
EUX aluminium shutters are synonymous with shutter quality and excellence. A variety of models and applications of the shutters enable their easy installation onto all the modern and traditional building types.
Shutter mechanisms
Production power and quality
The EUX Company represents a reliable and trustworthy business partner providing a mutually successful business operation for itself, its business partners and customers owing to a dynamic, certified and well-organised operation.
Metres of mechanisms produced per year
Tonnes of aluminium used in production per year
Years of experience and successful business operation
Looking for a reliable business partner?
EUX Shutter Systems provide you with top-quality and affordable products, together with a vast experience and authority within the industry.
We firmly believe that EUX shutter mechanisms provide adequate solutions to all your technical interventions, as well as architectural and design demands. Choose a mechanism model and contact us with confidence.